Set your practice up for success with our eBook. Discover how to improve patient experience and boost revenue.
Download eBook
7 Ways to Attract More Patients to Your Dental Practice without Spending More Money
Published on : 27/8/2018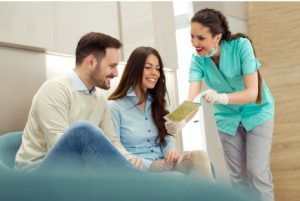 'How to get more patients to our clinic without spending a single dollar? It just seems impossible!'
If you've been thinking this for some time now, then you've come to the right place. This predicament you're in is not at all uncommon, as many dental practices find themselves having budgets that are stretched thin, yet they're still looking to get more patients through their doors. Believe it or not, there are ways that you can get your name out there and into potential patients' minds without having to shell out more cash. It just takes some ingenuity and a bit of hard work.
This is especially useful if you've just started out. The costs for your clinic equipment, dental cam software, hardware and the like may have left you with a limited budget for marketing. But not to worry. With these 7 tips, you will be able to gain more new patients while keeping your budget intact.
Offer to be the resident expert. Reach out to local newspapers, radio and TV stations and ask them if they need someone to talk or answer questions about your field of expertise. This helps media outlets spread valuable information straight from an expert to the public, and in turn gives you free and broad media exposure.
Educate people. Instead of constantly telling people your name and services, give them something they can use – information. If you already have a website, then build your blog to contain articles with practical information that people can use and that can establish you as an authority in your field. Articles like 'the right way to brush your teeth' and 'how to avoid bleeding gums' are some examples. You can then spread these around via social media, and get more people to see the value that you can add to their lives. (Learn more about using online platforms to boost your practice here.)
Offer freebies. Give discounts on special services or free teeth cleanings every now and then to bring new patients in. Don't forget to advertise these promos on social media, in front of your clinic, and through word of mouth.
Approach local organisations and companies. Offer to give talks or contribute informative articles to their local publication. Eventually, you could become the person they trust for their dental check-ups. By being the person they turn to, you gain access to hundreds of potential new patients.
Make your presence felt. Now is not the time to be shy. Volunteer to speak at seminars and answer questions at local schools, aged care facilities, community centres and charity events. Be available and offer your services during sports events and other community events.
Take care of your current patients. People are more likely to come back and refer you to others if they have a nice experience with you. So keep in touch with your current patients by reminding them of their appointments or sending them greetings and newsletters via email (you can have your dental management system set up to do these automatically). Ask them if they are satisfied with your service, and welcome suggestions on how they think you can improve. Give them perks for referrals, and always welcome them back like old friends because in a way, they are.
Be friendly and approachable. All of these efforts would be in vain if people still have a bad impression of you. So whether you're speaking in front of a crowd or treating one patient, always be nice and have a genuine smile on your face.
Knowing how to attract more patients to your practice is key to ensuring its long-term success. And by knowing how to attract new dental patients without spending more, you minimise the costs and risks of establishing a new practice.
Looking for a management system that can effectively help you with your new practice? Turn to Centaur Software. We offer the leading practice software, Dental4Windows and other software solutions developed with dentists' specific needs in mind. To know more, simply fill out the enquiry form on the left, and we will get back to you as soon as we can.
Editor's note: This post was originally published in August 2015 and has been updated for accuracy and comprehensiveness.
Related Posts
Dental4Windows enables your practice deeper patient engagement by providing multiple...

Dental4Window's marketing platform, D4W Marketing, is changing the face...

Mobile access to the internet has changed people's purchasing behaviour...