PatientCare is Australia's first AI-driven patient care management solution designed specifically for the dental industry.
The innovative technology used in PatientCare keeps all your patients feeling taken care of, bringing to your attention only the patients in need.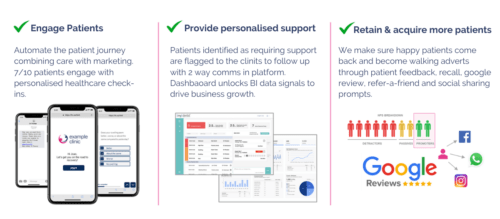 Find Out More
Integrated with Dental4Windows

PatientCare is seamlessly integrated with your Dental4Windows system. This means an automated telehealth communication channel is opened as soon as your patient has left the practice, enabling you to monitor and respond to any post-treatment concerns.
Be the provider your patients want you to be

Using data analytics and behavioural science to understand each individual patient you treat, we help you to connect with patients on a personal level.

PatientCare allows you to provide personalised care to every patient with targeted communications and individualised recall recommendations based on their health record.  Our approach encouragespatients to take action
Data Driven Solutions

PatientCare effortlessly uses operational level insights on behaviour and communication patterns to drive up patient engagement, practice efficiency and revenue growth through Artificial Intelligence.

Find Out More