Set your practice up for success with our eBook. Discover how to improve patient experience and boost revenue.
Download eBook
How to Attract Millennial Patients to Your Dental Practice
Published on : 31/1/2018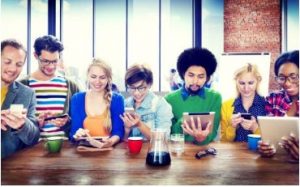 They're everywhere. In your neighbourhood, in your local coffeeshop, in your office building. They're practically everyone you know. We're talking of course, of none other than millennials. Millennials currently comprise around one third of the total world population and are the largest generation in recorded history. They're also likely to be the most affluent, educated and influential generation due to their exposure to a difficult job market and their attachment to the internet and social media.
If you've been wondering how to get more patients into your dental practice, the answer definitely centres around this group. Millennials represent a great opportunity for dental practices to expand and develop a new long-term patient base. But millennials are not like previous generations. They have a wide age range and varied backgrounds, opinions, lifestyles and interests. This means that conventional ways of attracting patients may not work as well with them.
So what will work?
A Strong Online Presence
If there's one thing that ties practically all Millennials together it's their affinity for the internet and social media, so having a strong online presence is a must if you want to catch their attention. This generation is used to getting the information they want, when they want it thanks to the internet, so it's important that all your vital information, such as business hours, address and list of services is easily available online. Of course, you should have a website for your practice. It doesn't have to be flashy, but it has to be fast, well-designed, beautiful and easy to navigate as millennials will accept nothing less. It also has to be mobile-friendly, as most if not all millennials are connected to the internet via mobile devices.
Aside from an official website, you should also develop a strong social media presence. According to an SDL report, five out of six millennials interact with businesses through social media. So make sure that you have social media pages that reflect what your practice is all about, and don't forget to include contact information as well as pictures of your practice and team. Also make sure that you engage with your patients through social media. It would be a good idea to have one dedicated personnel handling all questions and content on your social media pages, to ensure timely responses and relevant posts.
Convenience
Convenience is something that millennials have grown up with. They're used to getting information instantly and doing things online from the comfort of their own homes. If you want to attract millennials, you have to offer them that same type of convenience. How, you ask? By giving them the ability to book appointments online, fill up needed forms from wherever they may be, provide feedback online and make payments in the manner that is most convenient to them. You can do this by getting an efficient and comprehensive dentistry practice management software such as Dental4Windows.
Another way you can make things convenient for millennials is to offer different ways of getting in touch with you. Most millennials prefer to text service providers, or to get in touch with them through other private messaging tools/apps so make sure you make these options available to them.
Sincerity and Authenticity
No matter the platform, be it online or face-to-face, always remember to be honest and genuine with patients. Don't exaggerate or oversell yourself or your practice—millennials are not responsive to such tactics and have many sources at their disposal that could disprove your claims. Instead of focusing on aggressive sales tactics, focus on your honest strengths and what makes your practice unique. Be clear about your pricing, even if it is higher than those of your competition. Millennials understand value and are willing to pay more for better quality services. Communicate your value proposition clearly with no exaggerations, and make sure to deliver on what you promise. When you do just that, millennials will be more inclined to not only choosing your practice now but will also learn to trust your practice with their long-term oral and dental health.
Stay tuned for our next post where we identify more ways on how you can attract millennial patients to your dental practice.
Related Posts
Dental4Windows enables your practice deeper patient engagement by providing multiple...

Dental4Window's marketing platform, D4W Marketing, is changing the face...

Mobile access to the internet has changed people's purchasing behaviour...