Set your practice up for success with our eBook. Discover how to improve patient experience and boost revenue.
Download eBook
6 Reasons Why You Should Be Engaging Your Patients with SMS & Email Messaging
Published on : 27/12/2019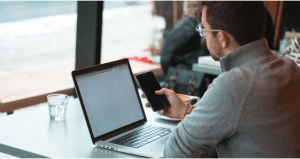 Communication is one of the most important ingredients to a successful dental practice. It is through proper communication that patients are able to relay their oral health concerns to their dentists, and dental practitioners are able to offer their patients the best dental solutions.
Constant communication is also important for developing patient trust and loyalty. With constant communication patients feel that they are genuinely cared for by their dentists well beyond their visit to the clinic. They become more connected to the practice and will not only keep coming back because of that connection, but also recommend that practice to everyone they know.
Thanks to the many developments in technology, communicating with patients is now easier than ever. With communication channels like SMS and email messaging, staying in touch with patients is literally just a few clicks away.
But some practices still prefer the old ways of getting in touch with their patients, believing these to be sufficient. While there's nothing wrong with still sending postcards and calling patients over the phone, there are plenty of good reasons why you should add text messaging and emailing to your patient communication methods:
1. They're the new norm
Just about every adult in your neighbourhood owns a mobile phone or smartphone, and carry it with them most of the time. On average, almost 100% of all text messages being sent to these phones are opened within approximately 3 minutes of being received. The same can't be said of email messages, but research has shown that the first thing many people do in the morning is check their email.
SMS messages and emails have become so ubiquitous and normal that not using them to reach your patients would just be a ridiculous waste of a very good contact opportunity.
2. They can reduce no-shows and cancellations
No-shows and cancellations are costly and bothersome. You lose precious time and money from the person who cancelled or didn't show up, as well as from another patient who could have filled that open slot.
SMS and email messaging can minimise and even eliminate these instances. By sending automated appointment reminders via SMS or email a week to a day prior to the actual appointment, patients can be reminded of their appointment ahead of time and not miss it. They can also inform you ahead of time in case they can't make it, allowing you to find another patient to fill in that open slot. SMS and email automation is easy and is a feature that comes with the latest dental practice management software from Dental4Windows.
3. They can fill up your appointment calendar
As we've mentioned in the previous point, SMS and email messages allow you to contact other patients easily so you can let them know if there's been a freed slot that they can fill in. They also allow you to quickly and easily disseminate information like special offers and discounts, new services, products and the like, which can attract more patients to come into your practice.
4. They engage your patients between visits
How do you keep patients engaged and thinking of their oral health in the long 6 months or so that they're away from your practice? You can do so through email and SMS campaigns. By sending your patients helpful tips and information regarding oral health, you're able to do four things:
Establish yourself as a competent as well as caring practice
Educate your patients
Help them take better care of their oral health
Keep your practice on top of their minds
And the next time they need to book another dentist appointment, they won't have to think twice about choosing you.
5. They build patient trust, confidence and loyalty
When you send out helpful tips and information to patients, and follow up on them regularly through SMS and email, you build patient trust, confidence and loyalty.
6. They can help your practice to improve
SMS and emails are great ways to get feedback from patients. You can message patients directly, asking them how their experience with your practice went. You could give them an online survey form, or direct them to a web page where they can give an honest review. You could also automate asking for feedback by programming your dental software to send an SMS or email message after scheduled appointments. Asking for feedback through these channels informs you of any shortcomings your practice may have, and allows you the opportunity to act on this feedback and improve your practice.
SMS and email messaging can do so much for your practice in terms of retaining patients and attracting new ones, but keep in mind that proper etiquette must also be practised when using these channels. Always ask permission from patients first if they would like to receive notifications through SMS and email. Don't send messages at odd hours of the day, and avoid bombarding your patients with messages as it will only annoy them. And of course, make sure to structure messages politely and with utmost respect.
Equip your practice with the tools to use SMS and email messaging efficiently. Dental4Windows is a full-featured dental practice management software that allows you to manage and maximise SMS and email messaging. It also comes with many other useful tools, such as a built-in dental imaging software, reporting system and more. Enquire with us today!
Related Posts
Dental4Windows enables your practice deeper patient engagement by providing multiple...

Dental4Window's marketing platform, D4W Marketing, is changing the face...

Mobile access to the internet has changed people's purchasing behaviour...