Set your practice up for success with our eBook. Discover how to improve patient experience and boost revenue.
Download eBook
Practice Management Software – Why is it Necessary?
Published on : 26/4/2017
There comes a time in any profession when a new way of doing things stops being an option and becomes the norm.
This is the stage dental practice management software in Australia is currently at. According to Orbis Research, the global dental practice management software market is expected to reach a value of US$1.59 billion by 2024, and the Asia Pacific region is leading the way.
Practice management software is no longer a luxury, it's a necessity. Here's what a game-changing platform like Dental4Windows can do for your dental practice.
Make the change to digital x-ray
Dental digital x-ray systems are the ultimate modern solution for efficient, cost-effective and quality imaging. Benefits include a rapid, chemical-free process and a typical reduction in radiation dosage of 70-90%.
Other advantages of digital x-rays over the traditional approach are:
Instant results
Easy image manipulation
They can be stored with dental records
They can be emailed without scanning
Digital x-ray machines used to be expensive, but as the technology becomes affordable they are becoming widespread. Dental4Windows can integrate digital x-rays into your practice management software, with subsequent savings in time and money.
Links to outside systems, including DVA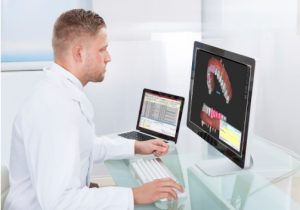 Software platforms that extend beyond your practice to liaise with other systems are the wave of the future, with accounts and appointments built in.
Dental4Windows, is the only dental practice management software with integrated Department of Veterans Affairs (DVA) online claiming.
Save on paperwork and time by submitting DVA claims online, using Medicare Client Adaptor (MCA) software.
Conversion rates: turn enquiries into customers
Does your dental practice regularly convert enquiries into new patients? If you're having trouble doing so, it could be because the right information is not available instantly.
With a digital practice management solution, you have all the data at your fingertips, including dental plans, costs, scheduling and imagery including 3D skull charting to show exactly what you are going to do.
Digital practice management software links the surgery with reception, one supplying the other with information as it's needed. Patients are looking for hassle-free dental service; they want to be reassured that your treatment plan is the right one. They make their judgements on cost, but also on the teamwork they see at the practice, on how friendly and knowledgeable reception staff are.
Digital practice management software draws together all the elements of your practice into one accessible platform – a platform fast becoming the only way to run a dental practice.
Get in touch with us by phone 1300 855 966 or email information@centaursoftware.com today to find out more about why a dental practice management system is necessary for your clinic.
Related Posts
Contact Us Tis the season to be jolly and save! ...

Holiday Service Desk Hours of Operation  Centaur Software will be...