Set your practice up for success with our eBook. Discover how to improve patient experience and boost revenue.
Download eBook
How to Choose the Best Dental Software for Your Practice
Published on : 11/4/2017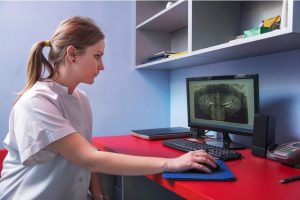 Are you considering purchasing a dental management system for your practice? It's essential to choose a software system that will enable you to not only maintain rigorous data and records, but also to better manage your enterprise, no matter its size or location. Here are a few tips to get you started.
Cost
This would have to be one of the main considerations in any practice, as purchasing software and hardware is usually a costly affair, and often involves paying for annual upgrades as well. However, the important thing here is to get value for money, rather than simply going for the cheapest option.
One way round the matter of cost is to use an online (cloud) program rather than buying a software package and downloading it to your system. With a cloud program, you get to use the software over the internet for a monthly fee, and backup services and upgrades are included in the cost. Other savings can come from a reduced need for hardware and IT specialist fees, and the fact that you only need to pay for the modules you really need.
Training and Support
When things don't go as expected or you have some questions about using the software, one thing you would certainly want is support from an expert from an Australian company who understands how your business operates and what it needs. Make sure to look into the levels of training and support that are included in any systems you are considering.
Integration and Flexibility
An integrated system is one where the various software modules you use 'talk' to each other, and where data entry is minimised and data integrity is maintained. This makes it important to look for a system that provides an integrated approach for all the data modules you use, and one that is flexible enough to provide you with the extra features or add-ons you need as your business grows and changes.
Practice Management
In any dental clinic, it's necessary to keep all data and customer records up-to-date and accurate. However, equally important is that the software system you use assists you in better managing your practice. This can come through additional modules such as digital imaging, 3D charting, appointment books, patient plans, accurate reporting, communications and invoicing.
Capability and Access
If you run multiple clinics you may want to consider software that will enable you to manage all your clinics from the one location, such as through multi-practice integration.
Ease-of-access is another factor you should consider. Cloud-based programs enable continual access from any location where a secure internet connection is present.
Centaur's Solution
All these features are available with Centaur's Dental4Windows (D4W) software system. Add-on features of the program include eAppointments, which allow patients to book online, eForms for capturing patient data, Mediasuite dental imaging software, 2D and 3D clinical charting, HICAPS / Medicare link, stock control, and many others. The system also comes with initial and ongoing training and ongoing support.
Related Posts
Contact Us Tis the season to be jolly and save! ...

Holiday Service Desk Hours of Operation  Centaur Software will be...