Set your practice up for success with our eBook. Discover how to improve patient experience and boost revenue.
Download eBook
Dental Practice Management: Automated vs Manual
Published on : 31/5/2017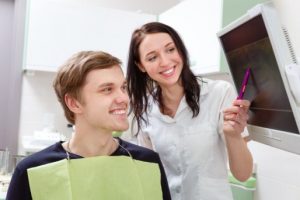 Over the past two decades, dental practice management systems have developed from manual legers to computer databases.
But the latest software takes things to the next level – by automating every aspect of your practice and integrating it, from appointments, to accounts and charting.
Here are four things to consider if you are thinking about transitioning your practice from a manual system to fully automated, cloud-based practice software.
1. Information access in your dental practice
The foremost attribute of the cloud is that it frees up the flow of data by making it accessible everywhere at once. As a dental practitioner, if you have your dental practice software in the cloud, you can access patient records, account information, dental plans and your practice's statistics from anywhere you like.
If you're at home, you can log in with any internet-enabled device. If there's an emergency and your opinion is needed immediately, you can access the data you need no matter whether you're at a business lunch or on holiday overseas.
If you work for a multi-location practice, patients and staff can migrate from location to location and still have access to all their records.
A manual system, on the other hand, relies on staff and patients being able to access the same computer or server, which ties your practice down to one location. If that computer stops working, perhaps because the server is being backed up, you are effectively blocked from accessing data.
Patients these days are expecting instant responses to queries. A delay in receiving information because of a computer glitch could cost you their business.
2. Online booking with dental software
Imagine if your patients could choose an appointment time and book themselves in without tying up your staff over the phone. Software like Dental4Windows' eAppointments module already allows them to do this.
There's another advantage to online booking besides convenience. All dentists want their patients to develop regular dental check ups as a habit. Just as they might book a hotel online or buy products, patients need to feel that they are empowered to be proactive about their dental health. By giving them the option of online booking, you're letting your patients take charge of their own health.
This is a clear advantage over a manual system, where a receptionist would need to type in appointment details relayed over the phone or via email. The potential for error is greater, and being put on hold while a receptionist takes another call is frustrating, especially for new patients.
3. Better communication within a dental practice
An innovation in Dental4Windows is the talkback facility built into the management software. This means the front desk can chat to the chair in real time and everyone is kept up to date.
So if Mrs Smith's husband calls and says he can't pick her up and she should get a cab home, this can be relayed to the chair through the chat function without interrupting the procedure. The dentist can decide when to let the patient know – instead of getting that knock on the door and subsequent interruption to the procedure underway.
4. 3D skull charting for dental practices
Showing the patient what's happening in the 'manual' days of dental practice management meant getting out the plaster skull or prosthetic.
Now, with automated dental practice software, a 3D simulation of the patient's skull and mouth can be marked up to show precisely where the problem lies.
To facilitate better imaging, Dental4Windows' Mediasuite integrates with the Mediaray Plus Digital X-Ray Sensor, the Mediacam Intraoral Camera and the Mediascan Phosphor Plate Digital X-Ray Scanner.
An automated practice management system with integrated dental cam software means you can give clearer information to your patient in a shorter period of time.
In addition, digital x-rays are a rapid, chemical-free process that come with a typical reduction in radiation dosage of 70-90 per cent. Naturally, these images can be attached to your patient's file so you can access them with ease.
The digital world we live in is one where patients expect information on demand. They want clearer illustrations of the procedures they are getting and to be able to take charge of their own appointments.
With Dental4Windows, the manual labour is literally taken out of your practice management. It's replaced with seamless, automated processes that enhance your service efficiency and your professional reputation.
Related Posts
Contact Us Tis the season to be jolly and save! ...

Holiday Service Desk Hours of Operation  Centaur Software will be...