Set your practice up for success with our eBook. Discover how to improve patient experience and boost revenue.
Download eBook
5 Things You Didn't Know About Dental Software
Published on : 6/2/2017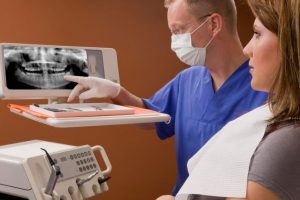 Successful dental practices need to keep track of charges and payments, inspire confidence in the patient, make booking appointments easy and be able to integrate these into one software package.
It's no easy task, but taking dental practice management software into the cloud can give you an advantage. That's because digital network technology is changing the face of the profession.
Here are five things you probably didn't know dental software can do right now to enhance your practice.
1.  Digital Imaging
You're probably already using some form of digital imaging, but did you know that digital imaging software is built into Dental4Windows?
Its 3D skull charting capability renders realistic, patient-friendly images right there in your clinic so you can keep patients informed about their dental health and treatment plans.
3D charting enables dentists to more accurately chart a patient's progress, and keeps up with the trend to move dental records and imaging into the cloud so that these are available from multiple internet-enabled devices.
2. Multiple clinic networking
If you have a practice that extends over multiple clinics, Dental4Windows' cloud-based technology allows you to access any patient's records from any location.
This cloud-based approach also means you don't have to download and register further copies of the software to computers when you open a new location.
Instead, you purchase a licence, log on to your account, and your practice management software is ready to go.
3. Record access
As a busy dentist, you may not always be at a particular clinic if an emergency occurs. But with cloud-based software, it doesn't matter where you are – as long as you have access to the internet you can log on and immediately consult a patient's records.
If you think of a solution to a patient's problem after you've gone home for the day, you can log on and make a note on their record.
4. Data security
A cloud-based service draws on the experience of IT experts in web security.
While hacking attempts and viruses may find a clinic's computer-based protections easy to target, it's much harder to attack sites that are secured online through the software provider.
5. Patient mobility
Cloud-based software gives patients the freedom to attend any of your clinic locations, since their record is available at all of them.
This means more convenience for the patient, who can make an appointment in a different area if they happen to be travelling there.
Since accounting services are also built in to the software, you can keep track of payments no matter which clinic they attend.
This kind of convenience is what people are looking for in an age where digital technology is making once rigid systems more flexible.
Related Posts
Contact Us Tis the season to be jolly and save! ...

Holiday Service Desk Hours of Operation  Centaur Software will be...