D4W Marketing – New dedicated Campaign Manager service
Published on : 25/3/2020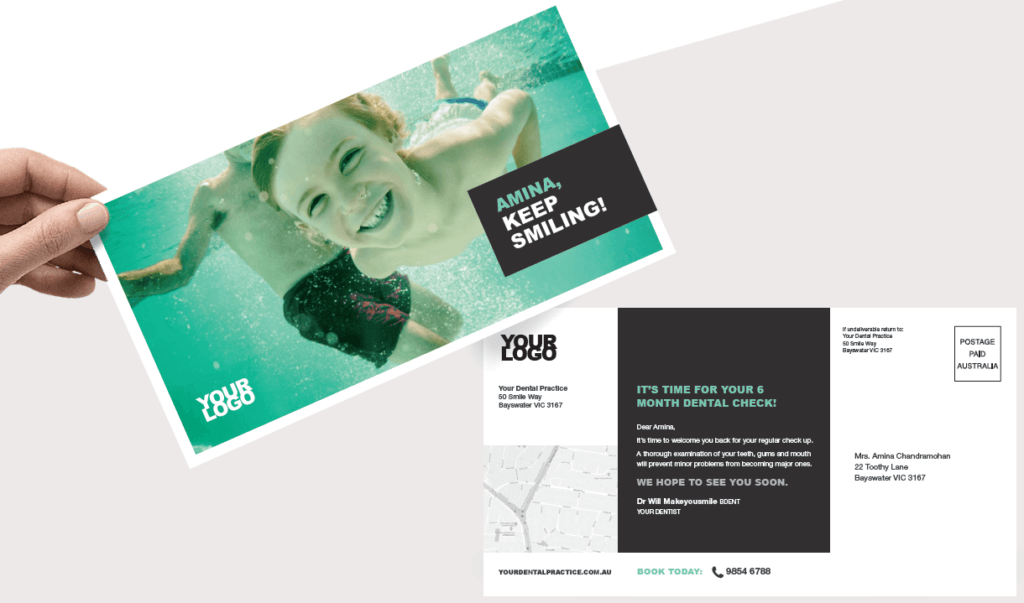 Dental4Window's marketing platform, D4W Marketing, is changing the face of how practices promote and grow their practices with its Campaign Manager feature, making it easier for dental practitioners to communicate with existing patients and attracting new clientele.
Dentistry has become a very competitive industry, with an increasing number of dentists marketing their services each year. Fortunately, consistent and well-designed campaigns, as part of an overall marketing plan, can help you to stand out from the crowd, raise awareness across your local patient community and improve repeat visits to your practice.
Modern Dentistry, Modern Services – D4W Marketing
We understand marketing isn't a core competency for a dental professional, but the requirement for a practice to communicate with new and existing patients, is now a requisite in this digital age.
D4W Marketing is a value-added service that aims to 'demystify' the promotion of your practice. With D4W Marketing, you'll have access to an integrated portal, which acts as the central hub of all your practice marketing, along with a dedicated Campaign Manager, who has expertise in dental marketing.
Your Campaign Manager will:
Inform and guide you on marketing strategies.
Develop a marketing communication plan and schedule with you (repeated at end of each plan, e.g. 12mths).
Arrange for automated tasks to be set up on your behalf*.
Arrange for you to be trained on how to use the queries (marketing) module of D4W and use the D4W Marketing Portal*.
Be available to discuss/implement new marketing strategies.
*Carried out by experiened D4W Trainers. Training and set up is included in the service.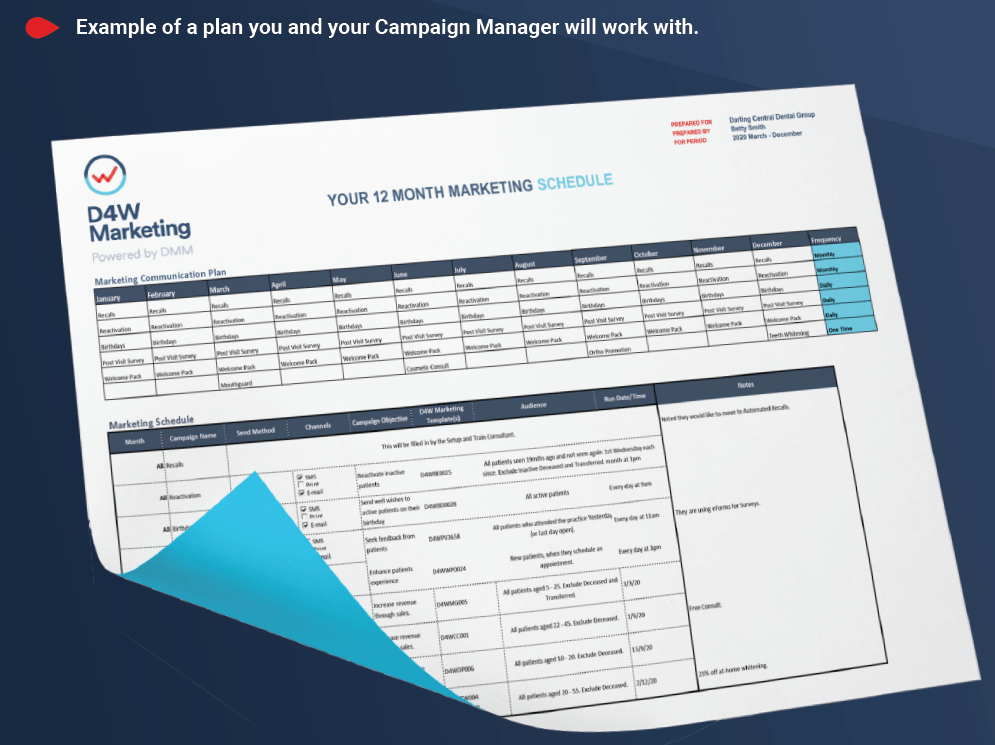 With D4W Marketing you will
Increase return appointments.
Increase your revenue and educate patients with cost effective, multi-channel marketing.
Keep in personalised and meaningful communication with your patients.
Save on branding, design and administration costs.
FAQ Section
Do I need marketing experience or experience with a marketing plan?
No experience is required, the D4W Marketing was designed with dentists & dental professionals in mind, understanding that marketing is not your core function. Your assigned Campaign Manager will have the expertise to assist you in all aspects of expertly marketing your practice, with an actionable campaign-base marketing plan tailored to your requirements.
What are the benefits of a Campaign Manager?
Practices using a Campaign Manager are able to broaden their potential reach to prospective new patients and communicate in a more targeted and meaningful way leading to increased patient recall rates. Your Campaign Manager will oversee professional campaign materials with personalised messaging which have been shown to have a high engagement rate and credibility amongst recipients.
What if I don't have the time?
Your campaign manager will work alongside you, saving you time by streamlining & automating procedures for recalls, reactivation's, birthday wishes, post visit surveys & welcomes packs – set on your behalf.
Related Posts
We're committed to helping upskill customers, especially during this unprecedented...

New HealthEngine and Centaur Partnership Brings Integrated Solutions for Dental...

COVID-19 We are doing our very best to flatten the...