Set your practice up for success with our eBook. Discover how to improve patient experience and boost revenue.
Download eBook
Dental4Windows Puts Your Dental Practice in the Cloud
Published on : 28/10/2016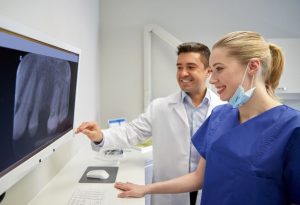 The dental profession is adapting to the challenges and opportunities the internet provides. For example, in August this year, the Australian Dental Industry Association hosted a conference at which B2B retailing opportunities for dental clinics were discussed.
Dental Practice Management Software has already adapted to the internet, with patient records, imaging and even charting available in one cloud-based software package called Dental4Windows Cloud (D4W Cloud).
Patient records accessed anywhere, any time
Wtih dental practice management software on premise there is back-up of course, but retrieving data depends on back-ups being performed regularly..
With internet, aka cloud practice management software, the data is stored on internet servers provided by an ISP. This means Dental4Windows Cloud is not downloaded to a specific computer in your practice, it's available anywhere you can access the internet and log in to your account. Imagine the savings in time this would allow.
IT problems handled in the cloud
Not only are a practice's records kept online, with a cloud-based practice management software system, back-ups are conducted automatically by the ISP. After all, their business reputation relies on keeping your data safe. Practices no longer have to rely on local IT experts to service and protect their data, while the rule of economies of scale mean your ISP can provide far better encryption and security than you could afford.
For a fixed monthly subscription fee, you get access to the latest version of D4W Cloud; keep in mind that updates are free. Training is also provided so your staff know how to use the software effectively.       D4W Cloud also comes with Mediasuite Digital Imaging Software for managing scans, images and digital x-rays.
Multi-location practices on a single database
Although each practice in a multi-location business can still maintain its own database if needed, all locations can access the same database with D4W Cloud. Imagine that: no more emailing images and records to a new location because a patient has moved to a new suburb.
D4W Cloud's services extend beyond patient records to include its eServices(for an added fixed monthly  fee): integrated online patient booking engine, eAppointments, and the electronic patient forms, eForms.
So there it is: treatment files, patient records, appointments, invoicing and receipting are all available with D4W Cloud with one fixed monthly subscription fee.
In fact, there are so many features in D4W Cloud that it's impossible to include them all in one article. Get in touch to find out how D4W Cloud can assist your practice. Call 1300 855 966 or email information@centaursoftware.com
Related Posts
On Tuesday, 5 October 2021, Microsoft released the latest member...

Dental4windows Update:  What's New & How to Upgrade - January...

Dental4Windows has a version major upgrade approximately every 2 years...