Set your practice up for success with our eBook. Discover how to improve patient experience and boost revenue.
Download eBook
How One Program Integrates All Your Practice Management Needs
Published on : 23/1/2017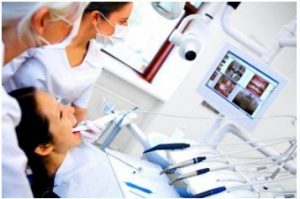 The beauty of the digital realm is that any data that can be quantified can be integrated with other data.
For a dental practice, this means that information that needed its own specific software can now be combined: patient records, appointments, imaging and treatment plans can all be gathered together and accessed via one program.
Let's look at the different elements of a dental practice and how they can be integrated to meet all your practice requirements with the Dental4Windows dental practice management software.
Multi-dimensional dental imaging systems
With D4W imaging, you can record 3D and 2D images of your patients' teeth. There are also customisable charting operations, and auto generation of treatment plans from treatment plan charting.
The 3D skull imaging has lifelike graphics, and allows you to notate the mouth, tongue and cheek. It's a patient-friendly detailed look at the overall health of your patient's mouth.
Patient records all in one place
With comprehensive patient demographics, you can have all the information about a patient's history right at your fingertips: family relationships to discover any genetically related conditions, health fund information, fee level and personal information.
Patient records give you auto alerts for any vital patient detail whether it's medical, or frequent FTA (failures to attend). You can even have a patient photo inserted in their file.
Generate treatment plans
Treatment plans can be generated from charting, and you can extract treatment phases and visits by printing out the complete plan or only selective visits. This allows you to break the treatments down into understandable phases for the patient.
If the patient has more than one area of treatment, you can coordinate multiple treatment plans, while appointments can be changed and updated as the treatment plans change.
Integrated invoicing and receipting
A healthy practice keeps tabs on where the main income streams are coming from. With D4W the patient can be invoiced and make payments through the same practice management software.
The system has fully integrated HICAPS, EFTPOS and credit card processing as well as Medicare teen dental scheme processing.
Importantly, there is an on-screen display of all amounts owing, which makes it easy to keep track in those cases where patients may have concerns about ongoing costs of treatment.
Related Posts
Contact Us Tis the season to be jolly and save! ...

Holiday Service Desk Hours of Operation  Centaur Software will be...