Set your practice up for success with our eBook. Discover how to improve patient experience and boost revenue.
Download eBook
5 Reasons for Switching to the Cloud in Your Dental Practice
Published on : 18/4/2016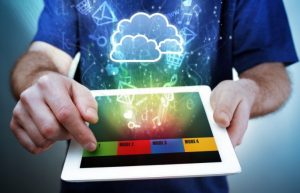 For some business owners, using 'cloud' technology could sound a little scary – almost a bit like entrusting your precious diary to a stranger somewhere 'out there'. However, if you are already using online services that have been with us for ages – such as email and online banking – then you are already using the cloud, possibly without even realising it. And if you ever make use of Google calendar or maps, then it's likely you are no cloud rookie!
Explaining the cloud
Essentially, the cloud is the internet. This means that in using cloud services, you pay a regular fee (usually monthly) to use software over the internet, as opposed to purchasing a software package and downloading it onto your computer system. Cloud service providers also store their customers' data on remote servers, and usually include software upgrades in the cost.
So why should you consider cloud-based practice management software services for managing your dental practice? We've outlined five reasons below for doing so.
1. Reduced software costs
With cloud products you usually pay a fixed monthly fee for Software as a Service (SaaS), rather than incurring the expense involved in purchasing an entire software package and then in ongoing upgrades.
Another thing to consider is that in purchasing a software package, business owners often find it contains modules they don't need. With cloud services you only need to pay for the services you want and use. For instance, Centaur's D4W comes with optional extra modules, such as Stock Control and Sterilisation, which you can add on for an extra fee if you wish.
2. Data security and integrity
Storing your data in remote servers may sound less secure than storing it in your own office, but the fact is that cloud service providers have greater capacity to ensure your data is safe and secure than you are likely to have in your business. This includes security audits and data encryption, and auto backup and recovery features.
It's also in the business interests of cloud service providers to ensure their customers' data is very secure – which means you shouldn't need to worry about your patients' valuable data and records becoming lost or corrupted.
3. 24-hour access from anywhere
A huge benefit of cloud services is that all you need is a computer or mobile device and a secure internet connection to be able to access your program from anywhere at any time.
4. Reduced need for space and hardware
The space required for physical files and for hardware components in a business can be considerable. With cloud services you only need a device and internet connection, saving valuable considerable space in your office. Less hardware also means lower costs on components and IT specialists.
5. Save time and improve efficiency
Using cloud services saves the time required to install software, to call on IT specialists for assistance, and to do those backups at the end of each day's work. This means more time to focus on what you do best – servicing your patients.
So who should switch to cloud-based dental practice management software?
Each dental practice is unique, and it's up to the individual business owner and/or practice manager to determine whether cloud services will suit their particular setup. But very busy practices that need to find ways to be more efficient, or that have multiple clinics, may particularly benefit from cloud services and should consider the switch to online practice management software for Australia.
Click to learn about Dental4Windows new Cloud product, D4W Cloud 
Related Posts
Contact Us Tis the season to be jolly and save! ...

Holiday Service Desk Hours of Operation  Centaur Software will be...