Set your practice up for success with our eBook. Discover how to improve patient experience and boost revenue.
Download eBook
4 Ways To Hire The Right Manager For Your Practice
Published on : 27/6/2016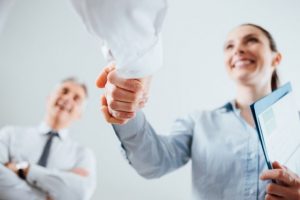 The practice manager is the face of your dental practice. The right practice manager can push your business beyond all expectations, while the wrong manager can deter patients. Hiring the best-fit manager for your practice can prove the difference between one time only patient visits and a business to which patients repeatedly return.
A good practice manager will be compatible with all aspects of your business, including with practitioners, staff and patients, and will be well versed in the practice management software, both in using the program to its best ability and in training staff.
So how do you find the right practice manager? Read our tips for sourcing the best manager for your dental practice.
Experience counts with dental practice managers
A practice manager needs to be experienced with business management and be able to provide answers about finances, dental practice management software, patient records and will be able to solve problems. A good practice manager will allow the practitioner to get on with providing patients with the care and treatment they need without having to ask constant questions about managing the practice.
Choose a manager who can take your business forward
Dental practices are changing, with technology and practice management software in Australia becoming increasingly sophisticated and able to work in sync with patient online booking systems. If your practice is leading the way in technology, you will ideally need to hire someone who can keep pushing the practice forward by keeping on top of the latest technology trends and advancements which will benefit your business.
Communication is key to dental practice management
Good communication is one of the fundamental features of a great dental practice, which is why the dental practice manager needs an excellent ability to communicate with key stakeholders. Between practitioners, other staff and patients of all backgrounds, communicating the right information to the right person is paramount, and a practice manager who lacks sounds communication skills may cause problems. A good practice manager will also need to be able to train staff with using practice management software, ensuring efficiency in using the system is of a high standard.
Get the recruitment process right the first time
A recruitment process involves planning, time and money. Getting the right practice manager by using a thorough recruitment process will help you avoid repeating the process if the employee isn't a good fit for your practice. Make sure you know what kind of employee you need before you start. Do they need to have knowledge of the specific dental practice management software you use, or are you willing to offer training? Do they need to have qualifications in business management, or just experience in a similar environment?
Once you have identified the skills and experience required, opt for a detailed interview process and thorough referee reporting.
The right practice manager should possess a keen eye for business, great communication skills and be willing and able to drive your practice forward. Get the hiring process right, and you might just find it's the start of a long-lasting relationship.
Related Posts
Contact Us Tis the season to be jolly and save! ...

Holiday Service Desk Hours of Operation  Centaur Software will be...