Set your practice up for success with our eBook. Discover how to improve patient experience and boost revenue.
Download eBook
Important Support Notifications
Published on : 1/11/2020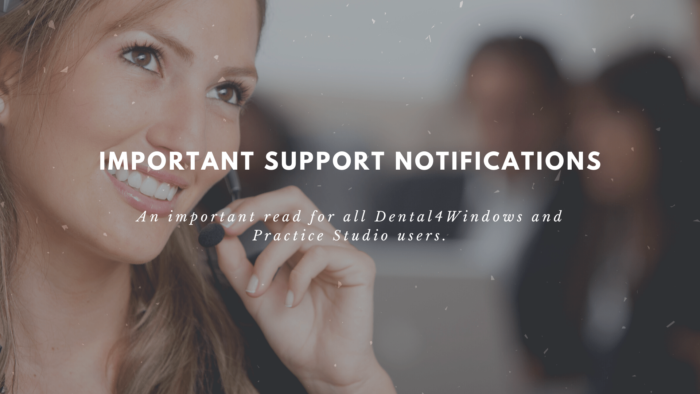 Our phone queue options are changing!
In the coming weeks, our phone queue options for Support will be changing. We will be offering more descriptive options for you to choose from. Our aim is that this new process will allow our service desk to assist you more efficiently into the future.
The phone queue options will be:
For Appointment Book or Patients Records, please press 1.
For Location Management, Insurance, Debtors & Marketing or Location Setup, please press 2.
For technical issues such as installation, upgrading or unable to open your application, please press 3.
For D4W Marketing, NDP, x-Plain, CMS or any other enquiry please, press 4.
eSupport
eSupport is now live and available for those on Support & Upgrades. Get help instantly at a time convenient to you by searching a range of helpful articles and videos all in one place.
Access a range of other helpful links through the eSupport portal including:
• Articles
• Training Videos
• Upcoming webinars
• New features documentation and upgrade information
• Setup information
• Getting started information
• Technical guides
• User guides
• FAQ's
Click here to access eSupport now
If you need your access details, please email customerservice@centaursoftware.com
The Importance of Upgrading Computers and our Programs
Maintaining an up to date computer system at your practice is important as these computers are critical to your business. We recommend reviewing each computer at your practice and ensuring that it meets the standard we require in order for our products to continue to provide great performance. We have created guides to inform you on what hardware/software specifications are required – find them here.
We also recommend upgrading our programs (e.g. Dental4Windows) to the latest version as this will entitle your practice to receive the very latest fixes and features. We aim to release four versions each year, therefore there is a good chance you may have an update waiting to be completed. If unsure on how to complete the upgrade process, please refer to these guides on eSupport or contact our Service Desk on 1300 855 966 to speak with Support Analyst.
The Importance of Backing Up
Maintaining a reliable system of backing up surgeries critical data files is an often overlooked aspect of many day-to-day operations.
While nowadays computers systems are very reliable hardware can still fail, viruses continue to be developed, power surges can happen, a natural disaster can occur, and theft can happen to anyone.
If any of the above happens to a customer without a backup they face the very real possibility of losing all their patient data, including financials, treatment history, x-rays, etc.
It is Centaur Software's recommendation that our customers review their method for backing up the practices critical data files with their IT Technician along with reading our Data Backup Documents.
It is also very important that a practices backup is checked on a regular basis. This includes reading the Backup Logs (this depends on the method used) as well as checking the files on the backup devices. If a backup was performed today but the files on the backup device are dated last week then something is wrong, and you should contact your IT Technician.
Related Posts
eSupport allows practices on a Support & Upgrade contract to...

Skip the queue with eSupport and keep up to date...

Skip the queue with eSupport and keep up to date...