Set your practice up for success with our eBook. Discover how to improve patient experience and boost revenue.
Download eBook
Appointment Book Scheduling: COVID-19 & Beyond – Exclusive D4W Online Training
Published on : 23/10/2020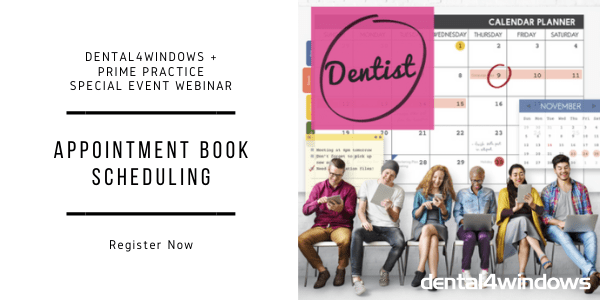 We're teaming up with Prime Practice to bring you an exclusive, Appointment Book Scheduling: COVID-19 & Beyond, training event.
Outline
A poorly managed appointment book affects all aspects of your practice. Your appointment book controls everything in the practice, so it is imperative that it is managed and utilised effectively. Even if you have had a well-managed appointment schedule in the past, it is likely that changes will be needed to accommodate the impact of COVID-19.
In this course, you will learn proven strategies to help create the ideal day, week and month for your practice. You will discover the benefits of pre-blocking and how this time-management technique can support you to gain control of your appointments.
You will learn how to create an individual appointment book template that you can use immediately after the session. You will explore other industry standards that are being implemented to help support and manage the appointment book and further enhance the dental patient experience.
Benefits 
With this exclusive D4W + Prime Practice online training, you'll get access to:
Appointment book scheduling workbook
Limited-time recording of the webinar.
Certificate of completion.
Access to a bonus webinar with Ana Ogier on 26 November to implement learned practices from the Prime Practice Appointment Book Scheduling webinar into daily Dental4Windows use.
Time/Date
Join us, along with Lisa Gains from Prime Practice on 23 November – 10:00 am to 11:30 am (AEDT)
Cost
AU $159.00 plus GST
How to Register 
More Information
About your Presenter:  Lisa Gaines
Lisa is a Professional Leadership and Team Coach and Facilitator with over a decade in Leadership Development and industry experience in Professional Services, Health Care and Dental, IT and Telecommunications, Government and NGO's. Lisa has a keen interest in human behaviour and performance in the workplace and facilitates transformational leadership and team training on advanced communication, emotional intelligence, team collaboration and customer service excellence. She is described as an extremely engaging, inspiring and informative Facilitator and Coach.
Lisa sees the tremendous difference it makes to organisations when their leaders and teams are trained in cutting edge, neuroscience based communication skills. Changes include reduced stress for leaders and team members, high performing dream teams and increased productivity, profitability and innovation.
Related Posts
We hope you enjoy the Cultivating Efficiency: The Power of...

We hope you enjoy the End of Year Patient Communication...