Set your practice up for success with our eBook. Discover how to improve patient experience and boost revenue.
Download eBook
Recall Appointments Best Practice
Published on : 27/5/2019
Do you know the correct way to handle recall vs. non-recall appointments within Dental4Windows?
Scenario
Bob is due for a recall next month, but he is coming in for a filling next week. When the recall batch is run, Bob is excluded because you chose to exclude patients booked in the future.
Schedule Non-Recall Appointments
When scheduling non-recall appointments, ensure <none> is selected from the Recalls drop list.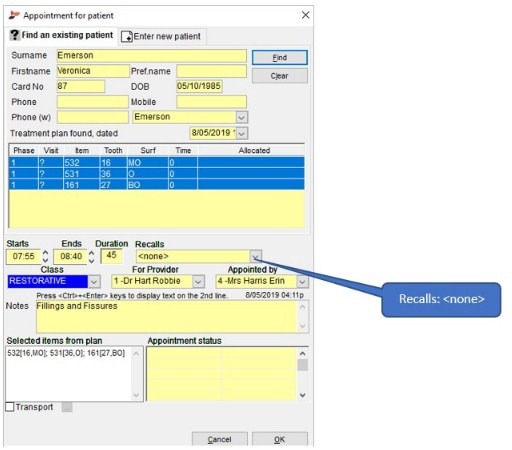 Figure 1: Example of Non-Recall Appointment
Schedule Recall Appointments
Whether the recall appointment is for a standard reminder, perio, ortho, or any other type of recall you have setup, always select the relevant recall type from the Recall drop list.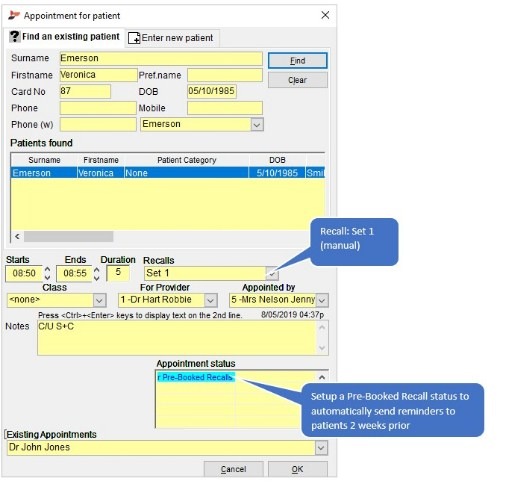 Figure 2: Example of Manual Recall Appointment with Pre-Booked Status
By default, standard Manual Recalls are named Set 1 and Automated Recalls are named Standard Recalls. Your list may look different, depending if you've changed the default names.

Figure 3: Example of Manual Recall Setup
Create Manual Recall Batch
The following steps only apply to those using the manual recall system.
When generating a manual recall batch and excluding patients with upcoming appointments, ensure you tick Include patients who have appointments booked for another Recall set which will include non-recall appointments.

Automated Recall Batch Setup
The following steps only apply to those using the automated recall system. Do not change any other settings without consulting with Centaur Support as it will impact your current recall setup.
Go to Location Management > Automation tab
Select Recalls sub-tab
Highlight the reminder – e.g. 1st Recall Reminder
Place a tick in Include patients who have appointments booked for another Recall set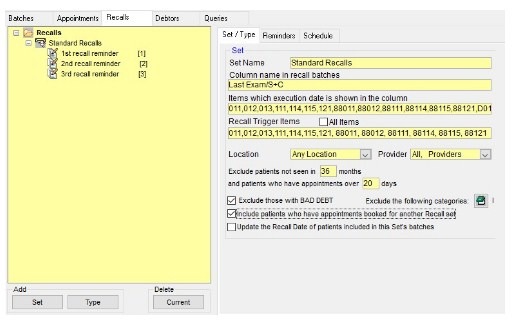 Additional Tips
Add a Pre-Booked Recall Status
Go to the Appointment Book > Options menu
Select Setup Status Types

Click New
Right click on Type and select relevant status
Enter Description
 Select Back Colour and Text Colour
 Select if it should be retained if appointment is moved to standby list
Click OK
Setup Automated Pre-Booked Recall Reminder
Login to the Learning Centre and watch the Automation: Setup Pre-Booked Reminder SMS video to learn how to setup automated reminders to patients with the pre-booked reminder status on their appointment. This helps reduce the impact of cancellations when sending confirmation messages 1-2 days prior.
Recall Effectiveness Reports
Two reports focused on recall effectiveness exist within Dental4Windows.
Go to Location Management > Reports tab > Recall Effectiveness or
Location Management > Reports tab > Recall Message Type Effectiveness   
Webinar
Click here to register for the upcoming webinar covering the information from this article.
Related Posts
Tyro's tailored health solutions are designed to take care of...

We hope that you enjoy the Dental4Windows /Practice Studio New...

Skip the queue with eSupport and keep up to date...