Set your practice up for success with our eBook. Discover how to improve patient experience and boost revenue.
Download eBook
Save time with Appointment Automation
Published on : 27/5/2019
Are those repetitive tasks taking your valuable time away from your patients? Why not use D4W to automate them?
Automation reduces human error, requires no ongoing training of practice staff and provides consistency when communicating with your patients, so their experience is as seamless as possible.
D4W Automation provides you total control on how each reminder is set up and the communication methods used to contact patients – SMS/E-mail/Letter/Postcard/Phone – while also allowing you the flexibility to design your own templates or link to D4W Marketing* for professionally designed template options.
Appointment-based reminder rely on appointment statuses to either trigger a reminder to be sent or exclude a patient from being sent one. Therefore, it is vital that your practice uses statuses correctly, e.g., appointments with the status 'R' will receive an SMS 2 weeks before their appointment.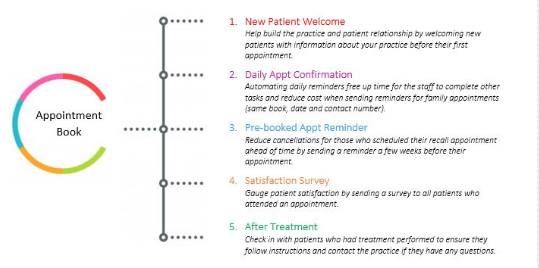 To find out more about Appointment Automation, log in to the Learning Centre and watch the following training videos:
Automation: Setup Daily Appointment Reminders
Automation: Setup New Patient SMS
Automation: Setup Post Care Instructions
Related Posts
From robotic arms in warehouse and manufacturing settings to AI...

Update 17th February 2022 We have now completed the integration between...

Dental practice management software is the technological glue that holds...