Set your practice up for success with our eBook. Discover how to improve patient experience and boost revenue.
Download eBook
The Paperless Practice Becomes a Reality with eForms
Published on : 28/8/2017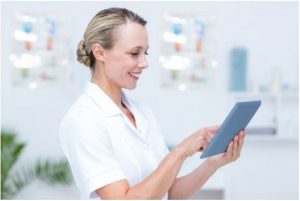 There's an old philosophy most of us have heard: 'If a tree falls in a forest and no one is around to hear it, does it make a sound?' Many have pondered this thought, and perhaps it doesn't have an answer.
What is certain is that it takes a lot of trees to make paper, and up until now, a lot of paper to run your dental practice.
But there's no longer any need to use paper for paperwork like patient registrations, medical histories, consent forms and satisfaction surveys.
eForms can take your dental practice paperless, and help you streamline your administration process.
Good for patients, great for staff
At Centaur Software, we are the specialists in developing dental software in Australia. Our online eForms – fully integrated into our Dental4Windows software program – are simple to use for patients and staff.
Patients can click on a link and quickly and conveniently complete and even sign eForms on their tablets or mobiles, either at home before their appointment or in your waiting room.
eForms can significantly improve workflow for your staff, as the patient's information synchronises with Dental4Windows, auto-populating fields and updating new information seamlessly. All of this can be filtered and viewed in real time.
The reduction of manual administration also reduces the risk of errors. It's important from both an administrative and legal standpoint that records are accurate and up-to-date. By removing lag time and reducing the human handling of the data, not only is workflow streamlined; accuracy is improved, too.
Now we're saving trees and creating less work. It's a win–win.
Forms are fully customisable
eForms gives you editable templates so you can hit the ground running, but there's also the option to further customise forms for your patients.
The ePortal allows you to create tailored forms with the questions worded how you want them, so you can get to know your patients better and show your practice's commitment to true individual service.
Secure storage of information
Finally – and most importantly – is the security of the information in the eForms. We utilise high-level encryption and authentication measures to help ensure the safety of your patient and practice information at all times.
A paperless practice is now a reality with Centaur Software's eForms. Contact us to find out how you can implement dental practice management software and eForms in your practice.
Related Posts
From robotic arms in warehouse and manufacturing settings to AI...

Update 17th February 2022 We have now completed the integration between...

Dental practice management software is the technological glue that holds...