Set your practice up for success with our eBook. Discover how to improve patient experience and boost revenue.
Download eBook
The Many Benefits of Modern Communication Tools in Dental Practices
Published on : 23/7/2018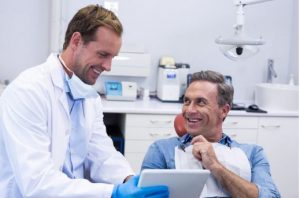 Dentists are no doubt experts in oral health and dental clinical procedures, but only a few are naturally adept at patient communication.
This is unfortunate considering that apart from clinical skills, good communication skills are one of the primary things patients look for in their preferred dental care providers. Patients don't merely want the best solutions to their oral and dental health problems; they want the providers of those solutions to be empathetic, caring and understanding of their needs, feelings and situation. They expect friendly and accommodating service to go hand-in-hand with optimum oral and dental solutions, and this can only be achieved through effective communication.
Developing great communication skills can take time and practice to learn. Thankfully, there are tools which dentists can use to improve patient communication instantly.
Improve Patient Communication with the Right Tools
Utilising modern communication tools can help to achieve positive patient perceptions. With the right communication tools, patients feel that they are well accommodated, thought of and cared for, all while making things easier and more convenient for the dental practitioner.
Some of the most effective and efficient communication tools of today include:
Patient education products – These are educational visuals that can be placed online on a dental practice website, on the practice reception TV and even chairside. These educate patients in a more understandable, visual manner of the procedures which they may require; thus enhancing understanding and communication between you and your patients.
Online patient service products – These include eAppointments, eForms and eSignature. These tools accelerate dentist-patient communications and make processes faster and more convenient for both the patient and dentist. eAppointments allow patients to schedule appointments instantly online; eForms allow patients to fill up necessary forms wherever and whenever convenient for them; and eSignature allows them to sign off on their treatment plan electronically. These tools can be  fully integrated with the best practice management software in Australia, Dental4Windows.
Why Effective Patient Communication Is Important
The goal of effective patient communication in a dental practice is simple, and that is to empower the patient with the knowledge required to make an informed decision regarding their oral health. But effective patient communication can also produce invaluable benefits for dental practices.
Research indicates that effective communication can greatly affect patients' perception of the value of the care provided, the trustworthiness of the dental care provider and the success of the treatment provided. When patients see you positively in these matters and have a positive experience with you, they return the favour by being loyal to you. That loyalty can lead to even more patients to whom they will recommend you.
In summary, improved communication with assistance from modern communication tools can help:
Improve treatment acceptance
Increase patient satisfaction
Reduce complaints
Improve practice efficiency
Improve patient retention
Increase patients through word-of-mouth referrals
With such substantial benefits, it makes sense to invest in developing the skills and procuring the tools that will enhance patient communication. So what are you waiting for? Get started by calling Centaur Software today on 1300 855 966.
Related Posts
From robotic arms in warehouse and manufacturing settings to AI...

Update 17th February 2022 We have now completed the integration between...

Dental practice management software is the technological glue that holds...