Set your practice up for success with our eBook. Discover how to improve patient experience and boost revenue.
Download eBook
Centaur Software Wins Dental Industry Innovation Award
Published on : 18/4/2018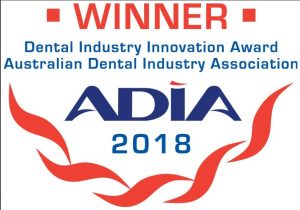 Centaur Software was presented with the ADIA – MPT Connect Dental Industry Innovation Award at an awards ceremony held on 24 March 2018 in Sydney.
Convened by the Australian Dental Industry Association (ADIA), the peak business organisation representing dental product manufacturers and suppliers, the ADIA – MPT Connect Dental Industry Innovation Award recognises business who develop new products that have been brought to market and demonstrably empowered oral health professionals to advance the health and well-being of all Australians.
"Australia's dental industry is recognised internationally for its ability to provide dental professionals with innovative patient diagnostic, treatment and management solutions and this award recognises Centaur Software's excellence in this field" said Troy Williams, ADIA Chief Executive Officer.
Centaur Software was recognised for is development of Mediasuite, software developed locally that integrates most digital imaging (X-Ray) devices used in dentistry, one of only three software packages globally that achieves this. What's impressive is that Mediasuite is the only dental imaging software in the world developed by the providers of a dental practice management software, Dental4Windows, thereby assuring a seamless and organic integration of both software systems.
The ADIA – MPT Connect Dental Industry Innovation Award was one of a number of awards presented by ADIA in fields including industry leadership, marketing and partnership. Award entries were assessed by a panel of independent judges with the experience and integrity to ensure the dental industry's achievements are properly recognised.
"In a year that ADIA received a record number of entries this recognition for Centaur Software is a truly special achievement", Mr Williams said.
The ADIA – MPT Connect Dental Industry Innovation Award was sponsored by MPT Connect, a not-for-profit organisation which aims to accelerate the rate of growth of the medical technologies, biotechnologies and pharmaceuticals sector.
---
If you would like more information on Centaur Software's Mediasuite Digital Imaging Software, click here. 
Related Posts
From robotic arms in warehouse and manufacturing settings to AI...

Update 17th February 2022 We have now completed the integration between...

Dental practice management software is the technological glue that holds...