Set your practice up for success with our eBook. Discover how to improve patient experience and boost revenue.
Download eBook
3D Printed Dental Product Regulatory Reforms Progress
Published on : 24/12/2019
Summary —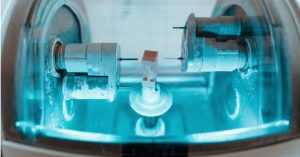 ADIA members continue to play a lead role shaping the regulatory framework for 3D printing in healthcare as it meets again with the Therapeutic Goods Administration (TGA) to progress regulatory reforms.
Key Issues For The Dental Industry —
Given that dentistry is the largest user of 3D printed medical devices, it is of no surprise that the Australian Dental Industry Association (ADIA) is taking a lead role in supporting the TGA develop a new regulatory framework for this emerging technology.
The TGA has recognised that, over the past two decades, rapid advances in computing technology and materials science have driven exponential change in medical imaging technology, manufacturing technology, and (as a result) medical device technology. For example, the idea that in dentistry it would be possible to use a 'printer' to manufacture tooth crown, bridge or veneer would have been considered impossible in the not too distant past; but it is a reality today.
Australia, and other jurisdictions, introduced exemption provisions for regulating custom-made medical devices with the intention to cover special cases where commercially available mass produced products were inadequate for the needs and requirements of a particular patient. The Australian provisions for custom made devices exempt them from the requirement of being included in the Australian Register of Therapeutic Goods (ARTG), the list of medicines and medical devices that can be lawfully supplied in Australia.  As a result, manufacturers and sponsors are exempt from the associated regulatory requirements such as inspections of manufacturers' premises and the requirement for third party certification.  The provisions were based on the premise that affected devices would largely comprise low risk products such as glass eyes, prosthetic limbs, prescription lenses, etc. This assumption regarding risk classification was accurate at the time the current custom-made medical device provisions were introduced, but the situation has evolved.
In late 2017 the TGA published a consultation paper on regulatory reform options with the ADIA membership, through the ADIA-LIG Laboratory Interest Group, providing a detailed response to the TGA.  The TGA paper can be downloaded below:
Consultations between the TGA, ADIA and other stakeholders across the medical devices sector are ongoing.  ADIA will meet again with the TGA on 4 July 2018 to progress reforms, with the dialogue between the two organisations on this issue serving as a showcase example of cooperation between a regulator and industry.
Of interest to ADIA members, and the broader dental industry, will be the regulatory approach when 3D printed dental products are produced using software, printers and manufacturing materials supplied by different manufacturers.  ADIA is keen to ensure that the new regulatory framework allows a high degree of interoperability in an arrangement that preserves patient safety.
ADIA is also keen to ensure that the new regulatory framework is technology agnostic, thereby ensuring it is relevant to additive manufacturing processes (e.g. 3D printing) as well as subtractive manufacturing practices (e.g.milling).
An update will be provided to the dental laboratory sector in the ADIA national offices in the coming months, affording the sector to contribute to the development of regulations that support development and adoption of this emerging technology.
Member Engagement —
Members serving on the ADIA-LIG Laboratory Interest Group provide advice and guidance to the ADIA policy advocacy team on matters associated with the regulation of dental laboratory products (custom-made medical devices) and updates are available to members at the quarterly ADIA State Branch Briefing series.
Further Information —
To keep up to date with matters associated with dental product regulation subscribe to the Twitter feed @AusDental or follow us on Facebook at www.facebook.com/dental.industry. Alternatively, you can contact the Association via email at policy@adia.org.au or by telephone on 1300 943 094.
Currency Of Information & Disclaimer —
This update was issued on 27 June 2018 and please note that changes in circumstances after the publication of material or information may impact upon its accuracy and also change regulatory compliance obligations. The statements, regulatory and technical information contained herein are believed to be accurate and are provided for information purposes only. Readers are responsible for assessing its relevance and verifying the accuracy of the content. To the fullest extent permitted by law, ADIA will not be liable for any loss, damage, cost or expense incurred in relation to or arising as a result of relying on the information presented here.
Article Credit: ADIA – https://www.adia.org.au/
Related Posts
The Federal Government certainly seem to be heading in the...

I have recently noticed increased interest on our chat forums...

Issue Summary —  The Dental Board of Australia (DBA) has released...