Set your practice up for success with our eBook. Discover how to improve patient experience and boost revenue.
Download eBook
Attract New Patients with Buy Now, Pay Later
Published on : 3/8/2020
Access a potential 2.1 million new patients with pre-approved National Dental Plan funding
The new COVID era has changed how many spend their money, giving a rise of patients looking to buy now and pay later.  The financial uncertainty of recent months has seen consumers move away from spending cash and using credit and opting for interest-free payment options across all retail sectors.  In dental, it has seen an increase in Treatment Plan conversions by up to 40%.
National Dental Plan (NDP) is powered by Humm and with 2.1 million patients already having an existing Humm wallet, this opens your practice to patients that may not have considered your practice previously.
Join 3,000 dentists who already enjoy the benefits of National Dental Plan
With one of the highest approval rates for patients and available funding for up to $12,000, NDP is fast becoming the leading buy now pay later option for patients.
In July, practices with NDP treated 3 extra patients with the average treatment plan costing patients $4,500.  That's a potential of $13,500 in extra revenue by adding NDP at your practice!
The flexibility of NDP allows practices to offer an interest-free payment plan at all stages of patient treatment.  Patients can apply for funding at the beginning, middle or end of their treatment to cover the debt that is remaining from their treatment.
Treatments that are funded by NDP can be paid into your account on a daily basis, increasing your practices cash flow.
To help your patients get the treatment they need faster, NDP is waiving its normal 20% deposit and is offering 0% Deposit until 30 September 2020.
That means, once a patient is approved, you can provide treatment immediately – knowing you'll be paid upfront. Your patient gets the treatment they need and they pay no deposit on their NDP payment plan.
Learn More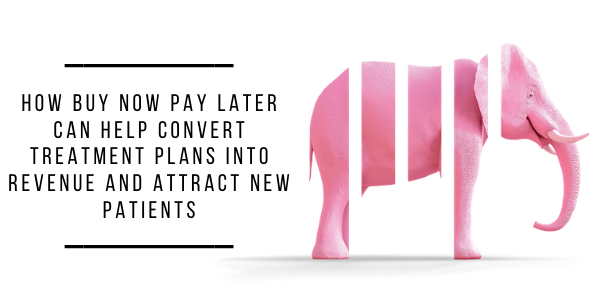 Watch special guest presenter, Rebecca James, CEO of Flexigroup, for the How Buy Now Pay Later Can Help Convert Treatment Plans Into Revenue and Attract New Clients Webinar.
As we all get used to living in a new COVID era, the way we spend our money has changed as well.
With the easing of lockdown restrictions throughout Australia have taken place, using buy now, pay later services have increased to levels previously unseen within the dental community.
Throughout the course of this webinar, Rebecca James will discuss how having a buy now, pay later service can increase your practice growth, supply the practice with upfront cash flow and the possibility of reducing patient debt within your books.
Related Posts
What is Artificial Intelligence?  For years, the concept of Artificial...

In the fast-paced world of dental practice ownership, operators often...