Set your practice up for success with our eBook. Discover how to improve patient experience and boost revenue.
Download eBook
An End-of-year Report Card for your Dental Practice
Published on : 11/12/2022
Around this time of the year, you often hear people exclaim, "where did the year go?".  Yes, we have, in fact, been passengers on the earth for another trip around the sun.  A journey that took 8760 hours (525,600 minutes) while we went about our lives. Noticing the end of the year naturally kicks in something remarkable in our minds, "the reflection mode". We often do that with our personal and professional lives and even our businesses.
When we were younger, the end-of-year review was done for us by our teachers. I remember, as a youngster, dreading, with good reason, what trouble my report card would bring me for the holiday season. In the business world, we call it an "EOY (End-of-year) Reflection". Whatever we call it, this concept is not a foreign one to most of us.
It goes without saying that dental practices, like any other business, should perform an end-of-year review to identify the ups and downs during the previous 12 months. As a nod to those teachers who had me worried all those years ago, I will call it an "End-of-year Practice Management Report Card".
As a data analyst at heart, there was one quote by the poet Maya Angelou that always resonated with me, "If you don't know where you've come from, you don't know where you're going". This is precisely the theory behind conducting reviews using data analytics, analysing historical and current data (where you've come from) to provide insights for the future (where you're going).
Every dental practice is its own unique organism. Depending on multiple factors such as the ownership structure, growth ambitions, business lifecycle stage, location, and patient demographics, the values and targets of the key performance indicators (KPIs) can vary. In other words, not everyone is getting the same report card. Based on what you measure at your practice, how you grade your review can differ from the practice down the road.
Regardless of the success criteria for your practice, let's explore five subjects (keeping up with our theme of the report card). We will look at each subject through two lenses; historical (what happened during the year), and current (a snapshot of the practice).
Patients
1.  What happened? – Net Patient Gain
Net Patient Gain is often overlooked in favour of the New Patients metric. However, if a practice does not effectively measure its Net Patient Gain, especially in an end-of-year review, there is no indication as to whether the practice is growing its patient base or filling up a leaky bucket at a considerable cost.
To calculate Net Patient Gain, you only need two numbers.
New Patients – The patients the practice has seen for the first time this year.
Churned Patients (also called attrition or lapsed patients) – This is the number of patients whose 18-month* anniversary since their last visit fell during this year.
*18 months is commonly used across the dental industry as the "churn point", although some practices and consultants may pick a different period.
Once you know your two numbers, the Net Patient Gain equation is quite straightforward.
Net Patient Gain = New Patients – Churned Patients
Below is an example of a practice reflecting on "what happened" in terms of Net Patient Gain.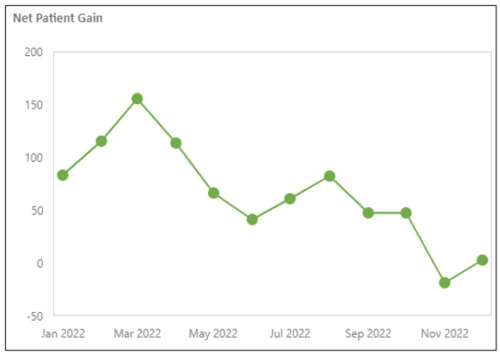 Source: Practice Insights by Dental4Web
2.  Snapshot – Active Patients
The "Active Patients" snapshot can be extremely helpful in determining where your practice sits at the end of the year.
The most common definition of an "Active" patient is "A patient who has visited the practice in the last 18 months". The number 18 comes from the concept of the traditional three six-monthly recall cycles. It is important to note that, nowadays, dental practices tend to tailor their recall strategies and intervals to align with their overall marketing strategy. Therefore, they may not necessarily adhere to the traditional recall cycle.
Here's an example of a practice checking its active patients at the end of the year.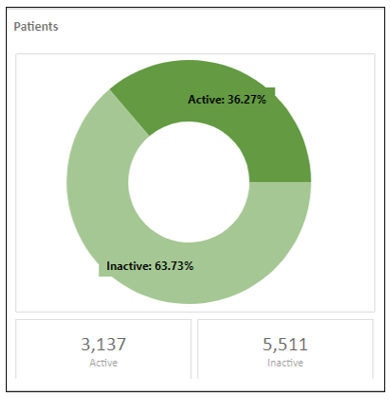 Source: Practice Insights by Dental4Web
Recalls
1.  What happened? – Recall Effectiveness
There are many schools of thought on what should be considered "Recall Effectiveness". Some practices that book 6-monthly recall appointments in-advance measure the effectiveness of their recalls by the number of patients who actually attend those pre-booked appointments. Some take an even simpler approach by looking at the number of active patients who returned for a periodic oral exam in the last six months.
However, the most widely accepted definition of Recall Effectiveness is the following.
Recall Effectiveness = Number of patients who booked their recall appointment/ Number of patients contacted to book their recall appointments
Regardless of your definition and the formula, measuring Recall Effectiveness will give you an excellent end-of-year indication of how you performed during the year.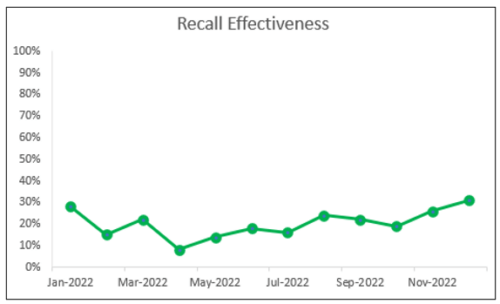 Source: Practice Insights by Dental4Web
2.  Snapshot – Active Patients on Recalls
It does not matter whether you consider a recall date or an actual appointment as a recall, the Active Patient on Recalls snapshot is a powerful indicator of the future success and even the survival of the practice. Measuring this value at the end of the year tells you if you have sufficient revenue opportunities and the foundations in place for positive patient base growth in the coming year.

Source: DentalBI Powered by Practice By Numbers
Treatment Acceptance
1.  What happened? – Treatment Acceptance
One would think Treatment Acceptance is a relatively straightforward metric to measure. It is treatment plans presented versus accepted. How hard can that be? The reality is that Treatment Acceptance is one of the most challenging metrics to measure. It comes down to two factors.
The definition of Treatment Acceptance – If a patient accepts a course of treatment, some treat the entire treatment plan as "accepted". In contrast, others take a more granular approach by looking at individual items. The latter cohort considers a treatment "accepted" if the item has been completed or booked.
Immaculate Record Keeping – If you present the patient with multiple options, and they accept one, do you correctly mark the other plans as "inactive" so they are not included in the calculations? If the patient only partially accepts the treatment plan, do you create a new one?
Although there is no universally accepted approach to the two factors above, it is essential that you and your team are clear and consistent on how you handle treatment plans.
The following is an example of a practice reflecting on its performance during the year and identifying trends.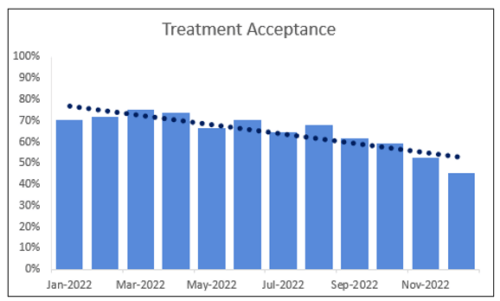 Source: DentalBI Powered by Practice By Numbers
2.  Snapshot – Value of incomplete treatments
The "Value of incomplete treatments" snapshot is a rather popular one among data-savvy dental practices, especially at the end of the year. It shows what has been left on the table and what can be done to bring in additional revenue from the existing patient base in the coming year. Typically, you look at the treatments presented to patients in the last 12 months. You can always go back longer and look at the outstanding treatment if you are willing to do the hard work of activating treatment plans that have been dormant for over a year.
The following is a valuable incomplete treatment snapshot of a practice.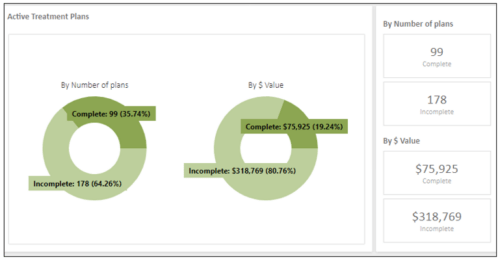 Source: Practice Insights by Dental4Web
Appointments
1.  What happened? – Appointment Rebook Percentage
The standard definition of a rebooked appointment is "A future appointment booked by a patient on the day of their treatment".  Some practices make minor modifications to this definition and consider an appointment as "rebooked" if it is booked within 48 hours or X number of days. Reviewing how your practice performed during the course of the year will help you identify what you did well and what could be improved.
Using the standard definition above, the formula for rebook percentage is,
Appointment Rebook Percentage = Future appointments booked on the day of treatment/ Completed Appointments.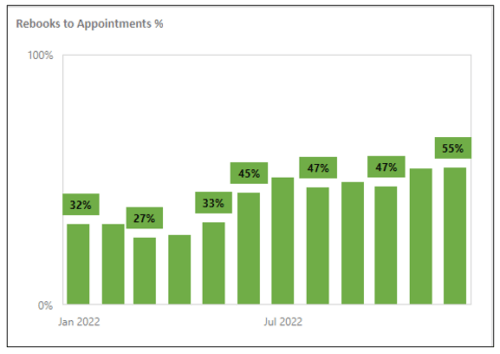 Source: Practice Insights by Dental4Web
2.  Snapshot – Active Patients with Future Appointments
The Active Patients with Future Appointments snapshot helps understand the size of the opportunity for generating additional revenue by reviewing the patients without future appointments. This snapshot is often combined with the "Patients with Future Recalls" snapshot to identify the cohort, the number, or the percentage, of active patients that may slip through the cracks unless targeted efforts are made to get them back in the dental chair.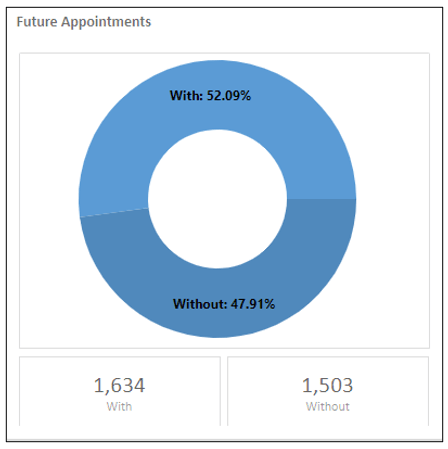 Source: Practice Insights by Dental4Web
Production
1.  What happened? – Hourly Net Production
Hourly Net Production is a valuable metric to show the health of the practice over the last 12 months. In addition to providing information about the dollar value of a patient hour, it is also a good indication of the treatment mix offered by the practice, treatment plan values and, in some cases, even the success of treatment acceptance.
The calculation of this metric is:
Hourly Net Production = Net Production Value/Number of Patient Hours
Reviewing the last 12 months will help you understand seasonal trends and patterns that correspond to certain events at the practice (e.g., the highest producer was on annual leave).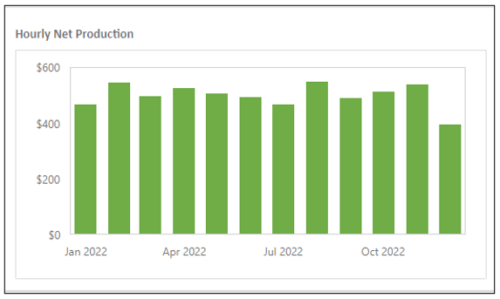 Source: Practice Insights by Dental4Web
2.  Snapshot – Debtor Ratio
Although production metrics are not typically used when creating a "status quo" snapshot of a practice, we will use the historical production values combined with the current debtor amounts to produce the Debtor Ratio. The Debtor Ratio is a valuable metric in determining not only the debtor amount but also if that debtor amount is sitting at a healthy rate.
The Debtor Ratio is typically calculated using the following formula:
Debtor Ratio = Total Debts/ Average net production for the last 12 months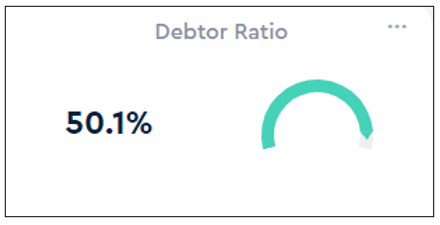 Source: DentalBI Powered by Practice By Numbers
Keeping on with our Report Card theme, the five subjects (Patients, Recalls, Treatment Acceptance, Appointments, and Production) reviewed through the two lenses (historical and current) will give you a good idea of how your practice performed in the year gone by, and where it stands on the verge of yet another journey around the sun. The grades you give yourself on the report card will entirely depend on what you set out to achieve at the beginning of the year. If you did not set goals for this year, do not fret; give yourself an A for putting the report card together; you now have all the information you need to tackle the new year head-on. I hope the report card you created in your "reflection mode" gives you cause for celebration, and I wish you a happy holiday season and the best of luck in 2023.
About the Author
Sean has 18 years of experience in the Australian Dental Information System industry and currently works as Head of Product and Innovation at Centaur Software. Sean holds a Bachelor of Applied Science from RMIT University and a Master of Business Administration from Swinburne University.
Sean is a passionate data analyst who loves everything data. Sean spends most of his time doting on his little daughter Amelia outside work.
Related Posts
In the fast-paced world of dental practice ownership, operators often...