Set your practice up for success with our eBook. Discover how to improve patient experience and boost revenue.
Download eBook
Growing Your Millennial Patient Base in The Digital Era
Published on : 10/7/2021
3 Minute Read
Like any other business, a dental practice's survival in the long term is wholly dependent on the patient loyalty it cultivates. Traditionally, patients found dentists via business directories, websites, advertisements, and most importantly, word of mouth, and the patients stayed loyal. While these traditional methods still work to a certain extent with older generations, today's younger generations demand a whole new approach. 
In 2021, the Australian Millennial, otherwise known as Generation Y – people aged between 25-40-stands at 22% of the population while contributing to 34% of the Australian workforce (source: Analyse Australia).  
Millennials came of age at a time that online platforms and social media gave them the power to share opinions, influence strangers, and challenge the status quo in unprecedented ways. Today's millennials impact change and create disruption via their keyboards and smartphones instead of the gathering at the proverbial town square that their predecessors were accustomed to. 
Millennials rarely visit business websites, no matter how well presented. Rather, they seek influence on social media platforms and online reviews. Similarly, they avoid calling businesses to enquire about services and book appointments, preferring to start their customer journey based on the recommendations of the online community and book appointments all at the comfort of their smartphones instead. Because of the nature of online influencing, brand loyalty is not something that any business can take for granted any longer.  
How can today's dental practices entice new millennial patients to their practice and retain their loyalty? Follow our tips below, and you will be on your way to growing your millennial customer base in no time.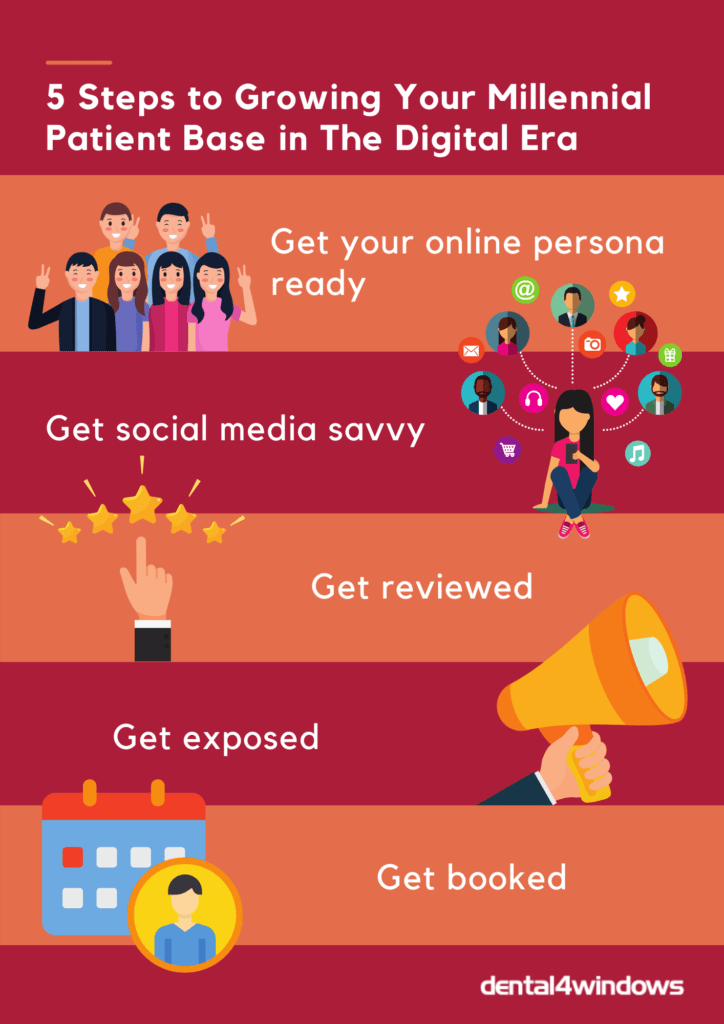 1.  Get Your Online Persona Ready
What your potential patients see online is often the only thing they take into consideration before deciding whether your practice is the right fit. Identify your ideal target patient segments and create your online persona accordingly. (e.g., Would you like to be portrayed as friendly family dental practice or high-tech cosmetic practice?). The online persona must align with your business strategy in the real world. 
2.  Get Social Media Savvy
Ensure your social media pages are current and informative. In the online space, you often get less than a minute to make an impression on someone, so use that time wisely. Post regularly; if you do not have enough content of your own, do some research and share some insightful articles. Actively engage with mentions and recommendations by responding to the poster. An active social media presence helps you attract new patients while keeping your existing patients informed. 
3.  Get Reviewed
Encourage your patients to share their experiences via online reviews. Potential patients often read your online reviews as the first step of their patient journey. The difference between a patient choosing between you and the competition could easily come down to your star rating or review count. Genuinely engage with the reviewers and provide earnest responses. Do not be afraid of bad reviews; how you handle negative reviews says a lot more about your business ethos than a positive review. 
4.  Get Exposed
Gaining online exposure does not have to be a lonely task. Unless you are willing to spend thousands of dollars on experts to help you with search engine optimisation, the next best thing is to partner with online directory services to increase your visibility in the online world. Let those services that only charge for successful referrals do the hard work in finding your new patients by setting up your digital stall in their online marketplaces. 
5.  Get Booked
All the tips we shared above are of little use if the patient still must call the practice to make an appointment. Give your new and existing patients the option to book online in their own time. This will ensure that the patients select the most suitable times for them, thus reducing cancellations. Make a booking online as simple as possible and share those booking links on your social media platforms and directory services. 
About the Author – Sean Perera
Sean Perera joined Centaur Software in 2021 as the Product Manager for Dental4Windows and brings with him 17 years of dental technology experience in both small business and enterprise dental arenas. He holds a Bachelor of Applied Science from RMIT University and a Master of Business Administration from Swinburne University. 
Sean is a passionate data analyst who loves everything data. When he is not working, he spends all his time doting on his little daughter Amelia. 
Related Posts
In the fast-paced world of dental practice ownership, operators often...